Frequently Asked Question
Internet Explorer browser security
Last Updated a year ago
Microsoft Internet Explorer is one of the most popular web browsers in the world. And it is quite normal, since it arrives already integrated in our Windows operating systems. It supports Java and other active content, and it also implements ActiveX technology.
To improve your overall security configuration in Windows 11, you need to access your browser settings area. Please make the necessary changes in case you are using a different version of Internet Explorer.
To improve your Internet Explorer settings, access the
Internet Options
area: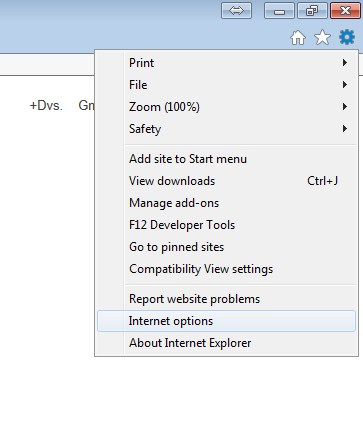 Go to the Security tab from the top menu.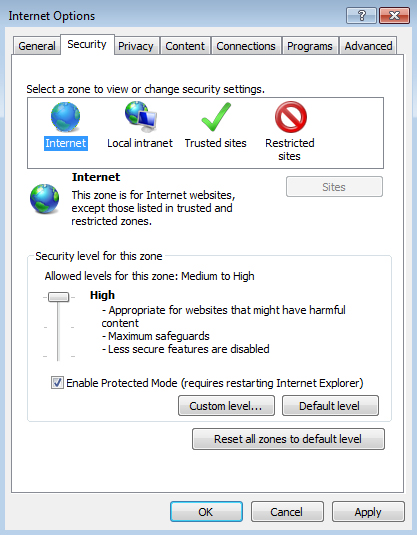 In this area you will find multiple security zones for your computer and you also have the possibility to customize each security zone.
For the Internet zone we recommend you to select the High security level. This selection will disable some browser features, such as ActiveX, Active scripting and Java, which acted sometimes as security breaches and even open gates for online threats.
To customize the security settings for a zone, choose the Custom Level option.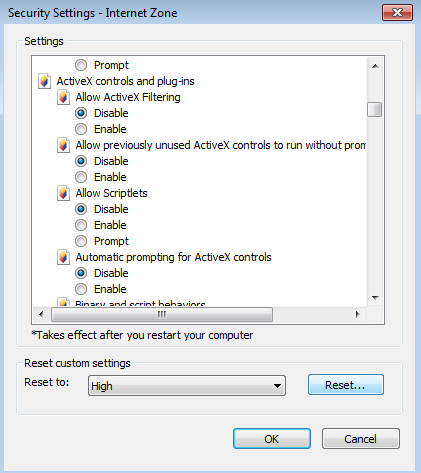 In this area you can enable or disable specific security options for your selected Internet area. To return to the default levels for the selected Internet zone, simply click the Reset… button available.
If we return to the initial window and click the Trusted sites option, we find a security zone for sites which are safe to access.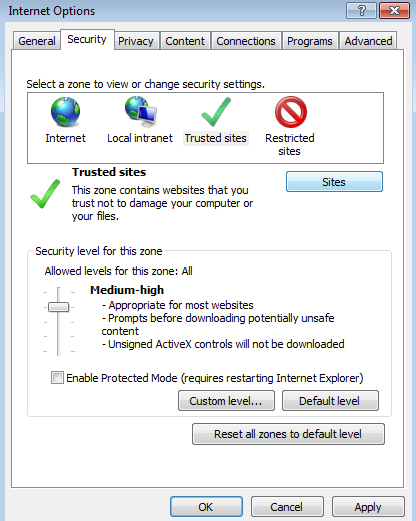 If you consider a particular website to be a safe online location that can be trusted, you can choose to add it to this area. To do this, click Sites.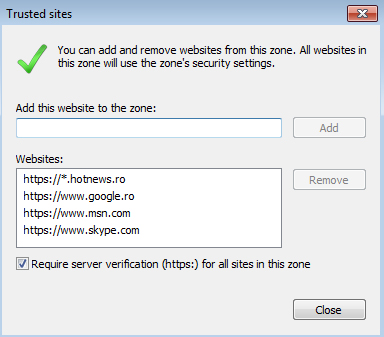 In this area you can choose to add the website to a list of safe web locations. You can also choose to remove a site from the list.
The Trusted sites zone is useful if you chose the High security level for the Internet zone. Setting the High security level in the Internet zone causes browser features like ActiveX and Active scripting to stop functioning, and you may encounter some websites that don't function normally after that.
To solve this, simply go to the Trusted sites zone and add the site that doesn't function as it should. Adding the site to the Trusted sites zone means that the website will work normally, by loading the browser features that are not allowed to function in the High security level.
The Privacy tab contains various settings for cookies in Internet Explorer.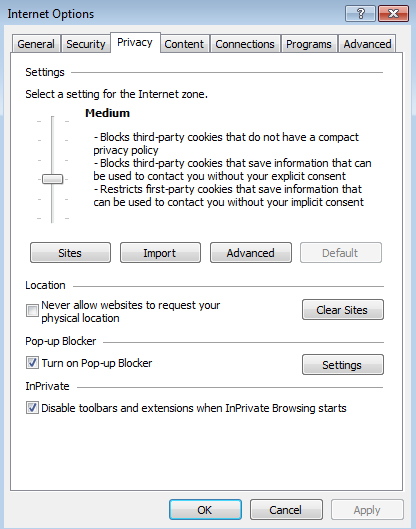 Cookies are text files that are placed in your computer by websites you access. They contain data and information the sites store about your browsing habits or your preferences. In this space you can use the pre-set privacy rules available by using the slider and select one of the settings for your Internet zone. For example, choosing the High level will block cookies from most websites.
If you want to make modifications, you have other additional options.
To improve your security, select the Advanced button available.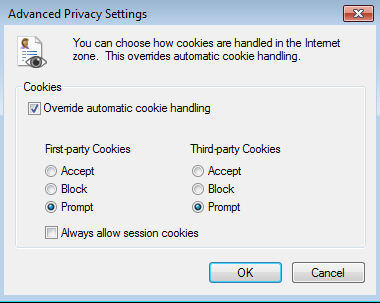 In this area, check the Override automatic cookie handling option and select Prompt for both first and third-party cookies. You will be asked each time a website tries to place a cookie on your computer. For example, if you visit an online shop associated with advertising, you may choose to block the cookie in order to prevent the website from sending you ads and affect your privacy.
If we go back to the Privacy tab and select the Sites… button, we have the option to manage cookies for a specific website.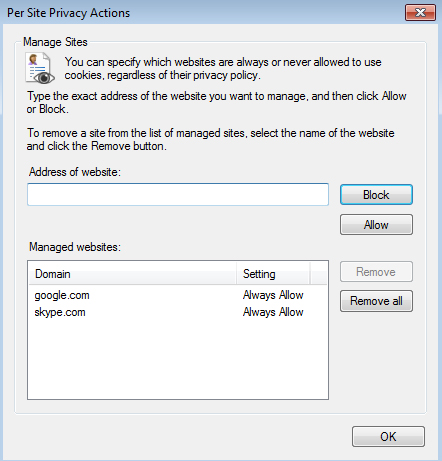 In this area, you can choose to allow or block cookies from a particular website.
A last security step we recommend you to take in Internet Explorer is in the Advanced tab.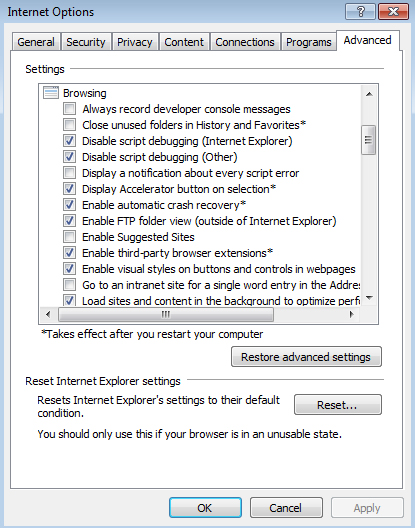 This area contains settings that apply to all security zones. From this tab, we recommend you to uncheck Enable third-party browser extensions option. If you leave it checked, different type of toolbars and add-ons are enabled on your system and this may affect your privacy. Many add-ons have proved to monitor your browsing habits or even attempt to collect private data from your browser.